2020 Jeep Cherokee SUV features and specs
2020 Jeep Cherokee SUV Features and Specs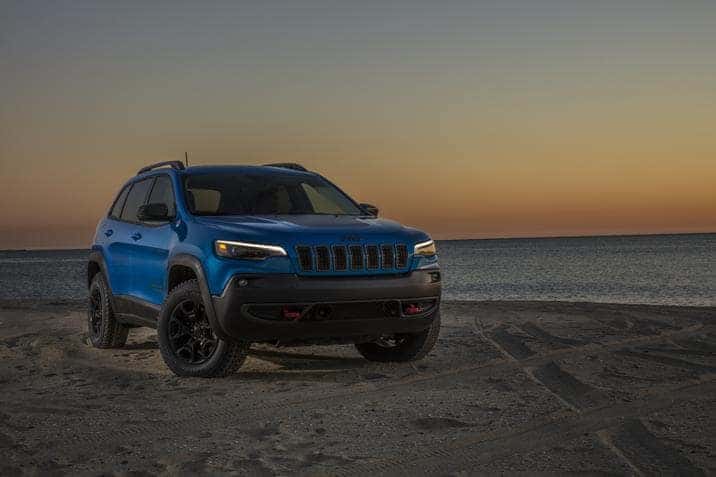 You may have noticed that as time goes by, a lot of SUVs are getting a lot more road-focused and a lot less off-road capable. In fact, there are some vehicles out there that claim to be SUVs that don't even offer the option of all-wheel-drive, never mind a proper 4×4 system that can cope with actually going off-road. Although the new Jeep Cherokee is available in front-drive form, buyers can also specify these compact Jeep SUVs in a way that can make them very capable off-road machines.
So, whether you want a capable urban cruiser that can cope when the pavement runs out, or a proper SUV that is designed to cope with the rough stuff off-road, there's a 2020 Jeep Cherokee that will fit the job.
Trim levels
At the moment, there are eight different trim levels in the Jeep Cherokee lineup, which does give buyers plenty of choice. The entry model to the lineup is the Latitude, and then the range goes to the Upland, Latitude Plus, Altitude, Trailhawk, Limited, High Altitude, and the range-topping Trailhawk Elite. The Upland, Trailhawk, and Trailhawk Elite are all exclusively 4×4 models, but all the other trim levels are standard front-drive with all-wheel-drive as an available option.
Engines
Buyers now have three engines to select from. The standard unit is a 2.4-liter inline-four, there's the tried-and-tested 3.2-liter V-6, and now there's also a very lively and enjoyable 2.0-liter turbo-four. The standard 2.4-liter engine develops 180 horsepower and 171 lb.-ft. of torque, while the V-6 ups the power ante considerably with 271 horsepower and 239 lb.-ft. of torque. There's a compelling case to be made for the 2.0-liter turbo-four though, which with 270 horsepower and 295 lb.-ft. of torque is more powerful than the V-6 and more fuel-efficient than the standard inline-four.
Features and equipment
As well as being one of the most versatile and capable SUVs in its class, the 2020 Jeep Cherokee is also one of the best equipped too. Entry-level Latitude models get standard 17-inch alloy wheels, manually adjustment cloth seats, air conditioning, remote keyless entry, and a 7.0-inch infotainment system that's Apple CarPlay® and Android Auto™ compatible and offers Bluetooth phone and audio connectivity. High Altitude models are extremely luxurious, with such upscale standard features as dual-zone climate control, leather upholstery, heated front seats, remote start, LED headlights, taillights, daytime running lights and fog lights, and 8.4-inch touchscreen infotainment system, and that 3.2-liter V-6 engine.
Fuel economy
If you want the best fuel economy, the standard engine would be where most people might look as it's the least powerful of the three units on offer. However, although the 22 mpg in the city, 31 mpg on the highway and 25 mpg combined it delivers is good, it's not the best on offer with the Cherokee. For the best fuel economy, you'll want the 2.0-liter turbo-four, which then gets you an impressive 23 city/31 highway/26 combined mpg in front-drive form and 21 city/29 highway/24 combined mpg with all-wheel-drive.
To learn about the very latest new Jeep Cherokee lease deals and to arrange a test drive in the Jeep of your choice, get in touch with us today here at Douglas Chrysler Jeep Dodge Ram, the premier choice Jeep dealer in Venice, FL.
Source:
https://media.fcanorthamerica.com/newsrelease.do?id=20899&mid=426