Discover the All-new 2019 Ram Heavy Duty Pickup Truck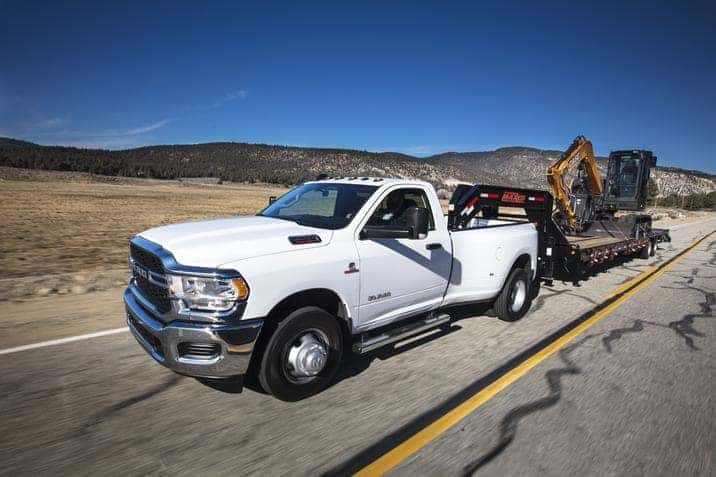 Hot on the heels of the all-new redesigned light-duty 1500, Ram has now given us an all-new 2019 Ram Heavy Duty pickup range to check out too. This new generation of Ram Heavy Duty models are probably not as big a departure from their last generation as the smaller 2019 Ram 1500 has proved to be, so let's look here at why they could quickly become the go-to models in the heavy-duty segment.
Exterior styling
It's impossible to ignore the fact the all-new Ram pickup truck ranges have had their macho exterior styling dialed down a little for 2019, but these new 2019 Ram 2500 and 2019 Ram 3500 models are perhaps not quite as toned-down as the 2019 Ram 1500. The heavy-duty Ram trucks are still very much the big, bold, purposeful and ready for work pickups we want them to be, but now they do it in a way that's a bit more stylish and contemporary than they did previously.
Interiors
The interiors of the new 2500 and 3500 are close to identical to their smaller 1500 cousins. That means there isn't really a no-frills, basic, workmanlike interior to speak of, and these interiors can rival luxury sedans for comfort and luxury if you go far enough up the trim levels. The 12-inch vertical touchscreen that's such a big feature of 1500 has now been made available in the heavy-duty models, and lots of buyers will welcome the presence of plenty of real buttons and switches instead of a touchscreen being used to control everything. The most high-end versions of these heavy-duty trucks feature some opulent, soft-touch materials, and lots of high-quality metals, plastics and even genuine wood trim.
Trim levels
Heavy-duty trucks are frequently offered in smaller ranges than their light-duty counterparts, but these new Ram heavy-duty trucks offer a wide range for buyers to choose from. The current range begins with the Tradesman, and then there are the Big Horn/Lone Star, SLT, Laramie, Power Wagon, Laramie Longhorn and the Limited.
Powertrains
It seems to be a tradition that heavy-duty pickups offer buyers a choice of one gas and one diesel engine option, and the new Ram 2500 and 3500 don't stray from this convention. The standard gasoline engine is a 6.4-liter V-8 producing 410 horsepower and 429 lb.-ft. of torque, and although there's no mild hybrid system like there is with the new 1500, this one does feature cylinder deactivation so half of the cylinders can be shut off to save fuel when all eight are not needed. An excellent eight-speed automatic transmission is a notable upgrade on the previous model's six-speed unit, and it sends the power to the front or all four wheels of the Ram, depending on your specification preference.
If serious towing is what you have planned for your new pickup, the diesel option is an incredibly impressive 6.7-liter Cummings inline-six that produces 370 horsepower and 850 lb.-ft. of torque in its standard form, but there's also a high-output version available in the Ram 3500 that increases output to 400 horsepower and a gigantic 1,000 lb.-ft. of torque. The standard version of the diesel utilizes a six-speed automatic transmission, but an upgraded version is supplied to handle the increased power of the high-output version of the Cummings.
Capability
If outright capability is what you're looking for from a new heavy-duty pickup, this new Ram is in a class of its own. When its configured correctly, the 2019 Ram 3500 offers a best-in-class payload rating of up to 7,680 pounds**, and the towing capacity is another class-best of 35,100 pounds.0 *
For more information about the all-new 2019 Ram heavy-duty pickup truck line and to schedule a test drive to experience them for yourself, get in touch with us today here at Douglas Jeep Chrysler Dodge, your premier choice Ram dealership in Venice, FL, and the surrounding areas.
*When equipped with diesel engine. See dealer for details.
**When properly equipped. See dealer for details.